How Can Communications Platforms Enhance Survey Tools?
Wednesday, September 6th 2023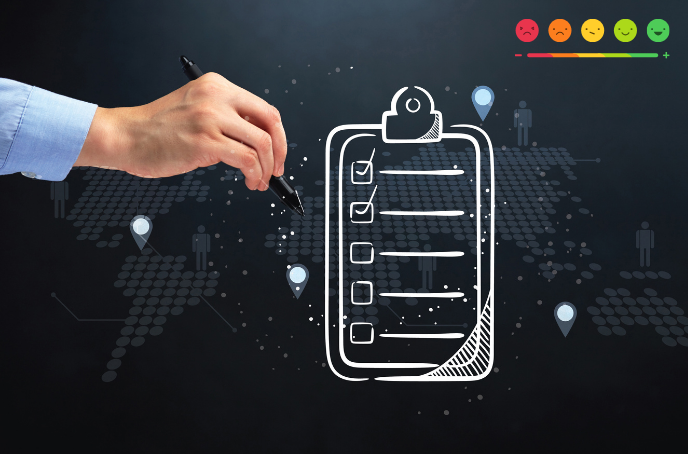 In the ever-evolving landscape of workplace dynamics, effective communication stands as the cornerstone of success. Clear and open lines of communication foster collaboration, innovation, and a healthy work environment. As businesses expand their horizons and teams become more diverse and dispersed, the challenge of maintaining seamless communication becomes increasingly complex. Communication tools like Teams and Slack are empowering employees to communicate more quickly, easily, and effectively than ever. This creates a huge opportunity for modern survey tools that can effectively use these communications to understand the employee experience far more effectively than traditional survey tools.
Understanding the Power of Survey Tools
Surveys have been used for decades to gather information and insights from individuals. However, in the modern digital age, survey tools have undergone a remarkable transformation. They have transitioned from traditional paper-and-pencil methods to sophisticated online platforms that not only streamline the data collection process but also offer real-time analysis and reporting. This shift has led to the emergence of survey tools as a vital instrument in improving communication within organizations.
Real-time Insights with TruPulse: Revolutionizing Employee Understanding
One revolutionary platform that exemplifies the potential of next generation survey tools and their use of communication platforms is TruPulse. TruPulse utilizes cutting-edge artificial intelligence (AI) technology to provide fast and continuous insights into employee sentiments and perceptions. Unlike traditional surveys that may be time-consuming and infrequent, TruPulse operates in real-time. This means that as situations change within the workplace, you are immediately informed, allowing for swift and informed decision-making. 
TruPulse is not just another survey tool; it's a convergence of HR technology and workplace psychology. This fusion amplifies its capabilities to offer nuanced insights that traditional surveys might miss. By combining these disciplines, TruPulse unveils hidden layers of employee understanding, paving the way for informed strategies to improve the workplace environment.
Let us discuss some of the important aspects of TruPulse:


Measuring Employee Morale and Spotting Trending Topics
TruPulse goes beyond the traditional scope of employee surveys. It doesn't just measure basic satisfaction; it delves into the realm of employee morale. By gauging morale levels, organizations can proactively identify potential issues before they escalate, ensuring a healthier and more engaged workforce. Additionally, the platform is equipped to identify trending topics among employees. This feature is invaluable in staying attuned to the pulse of your workforce, as it enables you to address emerging concerns promptly.
Real-time Insights: The Power of Now
The traditional approach of conducting annual or bi-annual surveys has its limitations. By the time results are gathered, analyzed, and acted upon, the insights might already be outdated. TruPulse's real-time insights offer a game-changing alternative. This enables organizations to make decisions that impact employee experiences, engagement, and workplace culture based on current data, not historical snapshots.
Cultural Health: From Assumptions to Real Data
Workplace culture is a driving force that shapes an organization's identity. TruPulse empowers organizations to track their cultural health based on real-time data, rather than relying on historical assumptions. This shift from speculation to data-driven insights allows for more accurate cultural assessment and strategic planning.
Privacy Respected: Balancing Insights and Confidentiality
While the benefits of real-time insights are substantial, concerns about privacy and data protection are legitimate. TruPulse addresses this crucial aspect by respecting employee privacy. The platform's AI-driven approach incorporates cutting edge de-identification technology to ensure that individual data remains confidential while still providing organizations with valuable collective insights.
Elevating Communication with TruPulse: Where HR Technology Meets Workplace Psychology
In a rapidly evolving business world, communication remains the linchpin that holds organizations together. Next generation survey tools have emerged to gain insights from these communications to improve the employee experience. TruPulse, with its AI-powered real-time insights, takes employee understanding to unprecedented heights. By measuring morale, tracking cultural health, and respecting privacy, TruPulse reshapes the way organizations perceive and address their workforce's needs. It's more than a survey tool; it's a revolution in people analytics.
And there you have it. TruPulse isn't just an AI platform; it's a transformative force that redefines the way organizations comprehend their employees, without relying on traditional survey methods. With its real-time insights and data-driven approach, TruPulse empowers organizations to navigate the intricate landscape of communication and engagement with confidence. Get in touch with us today to learn more about this AI-powered software, TruPulse. We will explain how it is going to add value to your organization by enhancing communication between employees and higher management, and foster better decision making.
Tags: , Communications Platforms, survey tools